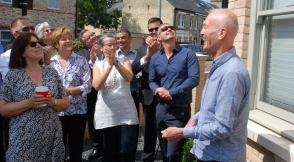 Managing property as though we live there

Specialists in estate and block management

We do estate and block management differently
We operate differently from many residential estate and block management companies. As managing agents, our aim is to simplify the process and produce a more user-friendly and cost-effective outcome for residents, leaseholders and freeholders..

Managing property as though we live there
Encore provides a wholly professional service, ensuring high standards through a proactive approach to effective property management and the efficient administration of the service charge. We manage a rapidly expanding portfolio of high quality developments across East Anglia, London, the Home Counties and East Midlands. We are experienced at dealing with all types of properties, from small to medium sized developments in the countryside, to developments comprising hundreds of units in denser city centre spaces.

Crucially, we engage an in-house team of multi-skilled porters, window cleaners and caretakers, rather than individual sub-contractors, so that hours spent on-site can be measured more closely in accordance with the specific requirements and demands of that site or building.

Property Management Awards 2009 - WINNER: Porter of the Year
Negotiator Awards 2010 - RUNNER-UP: Block Manager of the Year
Negotiator Awards 2008 - RUNNER-UP: Block Manager of the Year
Negotiator Awards 2014 - Bronze Award: Property Management Company of the Year

UK Property Management Awards 2014 - WINNER: Regional Property Management Company of the Year