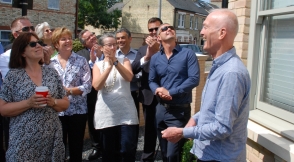 Building intelligence

Automated systems for your home or office

Residential and commercial solutions
Baulogic specialises in the design, installation, maintenance and support of intelligent building controls for residential and commercial projects. We integrate all of the electrical and electronic systems in your home, office, school or building - including lighting, heating, HVAC, passive ventilation, automated curtains and blinds, security, entertainment, and data networking.

Building intelligence: residential and commercial solutions
Whether you're looking to reduce the energy consumption of your new home, implement mood lighting (where a single button press can prepare your living room for watching TV, reading a book or dining), have music distributed around your home from a central media server, or close your curtains automatically at dusk, Baulogic can help. We also provide solutions for commercial properties: controlling the lights, heating and security within an office or the public areas of a residential building.